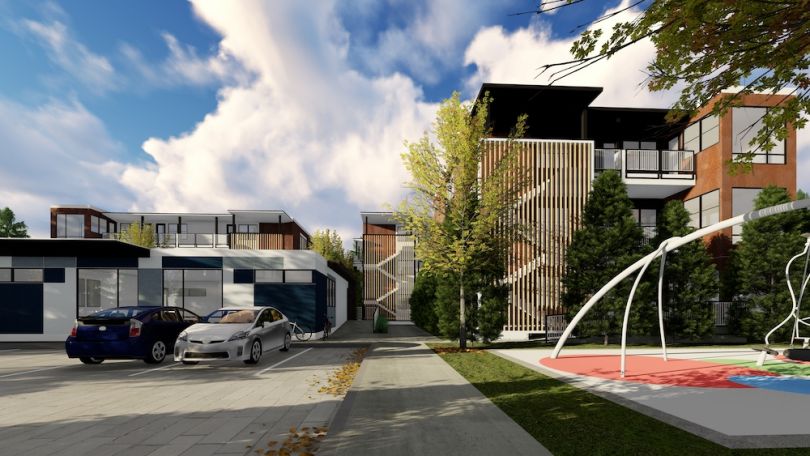 Housing developer and consultant Blokable announced this week that it has raised $23 million in Series A funding, with plans to expand its product development team and open a second manufacturing facility. 
Vulcan Capital led the funding round, and Building Ventures, LAUNCH, Kapor Capital, Salesforce co-CEO Marc Benioff, Motley Fool Ventures, Ten Eighty Capital and angel investor Dennis Joyce also participated.
This round brings Blokable to $34.4 million in total funding. 
Aaron Holm, co-CEO of Blokable, said investors were "mission-aligned" with his company. 
"We're very excited for the next phase as we lay down the product, technology and supply chain foundation for a network of regional Blokable manufacturing and real estate," Holm said in a statement. 
Founded in 2016, the Seattle-based firm builds modular connected homes at its warehouse in Vancouver, Washington. Through an online platform, clients can select the type and size of unit they desire —which can range from a studio apartment to large commercial space —and customize their floor plans.
Blokable's platform also helps users manage the building permitting process. Once permits are issued and the individual "Bloks" built, units are transported to the client's construction site, where workers stack them up to three stories high to build hotels, single-family homes, nonprofit facilities and more. 
In an interview with GeekWire, Holm said Blokable is working with affordable housing nonprofit Compass Housing Alliance to build 64 units on land donated by Edmonds Lutheran Church in northern Edmonds. The company also plans to finish building the first few units of a project in southeastern Auburn, Wash. in the fall.
The firm aims to build five-story buildings by next year, according to GeekWire. 
All Blokable homes are wired to measure units' temperature, power usage and air quality, and are equipped with smoke, carbon monoxide and water leak alarms. These units are monitored continuously, with data reported immediately back to users through the developer's BlokSense Insights Dashboard, where residents can manage their homes settings. 
The company claims its standardized manufacturing process reduces the time and cost of traditional real estate development, and that its smart home units can reduce property maintenance and insurance costs. Blokable owns the units that are for market-rate housing. For affordable housing, Blokable charges nonprofit partners a fee to develop the projects, in addition to the cost of the project. 
"Our development model eliminates risks and the substantial legal, technological, and operational costs that bloat every project and suck equity out of owners and communities," Nelson del Rio, co-CEO, said in a statement. 
The company will use the cash infusion to grow its product development team, as well as open a second manufacturing facility in the Sacramento area, so as to grow its presence in California. It has spent the year working to get its manufacturing and engineering process in compliance with California regulations around housing.
Blokable employs 22 people today and is working on hiring a vice president of manufacturing, according to GeekWire. 
YB Choi, who serves on the venture capital team at Vulcan Capital, has joined Blokable's board of directors. 
"It's clear to us that the housing sector is long overdue for inventive business models, technology innovation, and new market creation," Choi said in a statement. "Blokable has the right team and the differentiated business model to break through the structural issues that fuel the continued housing crisis in this country."